Vision
Our vision statement describes the clear and inspirational long-term change we hope to see in Acton and Boxborough as a result of our work.  Making this vision a reality is our organization's sole purpose. 
Our vision for Acton and Boxborough is to be: 
A community where everyone belongs and thrives.
Mission
Our Mission Statement states how we as an organization plan to reach our vision:
We mobilize the caring power of community to drive positive, lasting change. United, we fight for the health, education, and financial stability of EVERY person in Acton and Boxborough.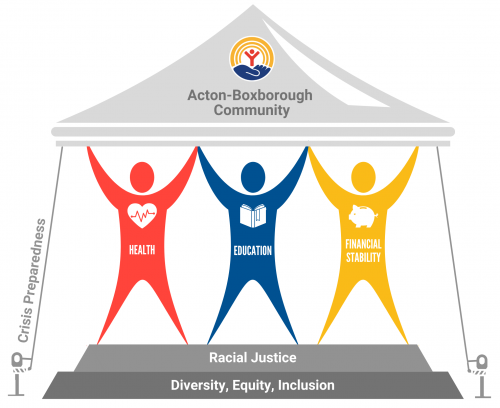 The visual of the Open Tent explains our Mission. Let's look at it from the bottom up.
Diversity, Equity, Inclusion (DEI) and Racial Justice are intentionally depicted as the foundation of our open tent.  Belonging is foundational for each of us, it is a prerequisite for thriving.  We also know that belonging cannot be taken for granted. Acton-Boxborough United Way is committed to strengthening a community culture of belonging.   As such, we will use a "belonging lens" in every aspect of our work, to make it part of our organization.  To capture our commitment to do this hard and often uncomfortable work, we show steps to climb.  And to highlight our tireless dedication to expand learning and growing in our community, you will see that DEI and Racial Justice are not only baked into everything we do, but they will stand as a separate Impact Goal in our Strategic Roadmap.
Moving up the illustration, upon that foundation you will see three people.  Acton-Boxborough United Way believes in people power. We believe in mobilizing the power of our community members.  Together, we can address the needs of our community in three focus areas: Health, Education and Financial Stability.  These focus areas are critical levers in every resident's life and make it possible for each individual and family to thrive. We have created an Impact Goal for each in our Strategic Roadmap. 
Health, Education and Financial Stability are essential year round, and in crisis become even more critical. You have proven the power of coming together during the Covid-19 pandemic and after the recent apartment fire in Boxborough.  When we come together, by LIVING UNITED and joining forces -- by giving, volunteering and advocating -- we can lift up our community.  This extraordinary year, dominated by an unprecedented crisis,  made us realize that we should not only think of Crisis Relief, but also of crisis preparedness. Addressing Crisis Preparedness and Relief warranted a dedicated focus in our strategic roadmap. 
Stepping back, you can see that the illustration is of an open tent.  We offer our organization as an open tent, a safe platform for ALL residents and community partners, public and private, to work together to make our community a place where everyone belongs and thrives.  
Guiding Principles
Our guiding principles are our core values and will remain constant over time.
… thinking big and bold, coming from a place of joy and opportunity.
… building bridges and coalitions. 
… being nimble, creative, and entrepreneurial.
... everyone belongs and deserves a chance to thrive.
... our community's greatest assets are those who live in it.
... when we come together as neighbors, we all win.
… advancing Diversity, Equity, Inclusion, and Racial Justice in our organization, and in our community [read our Statements of Principle]. 
... building trust, transparency, and accountability.
… learning and growing as community leaders.