Community Resources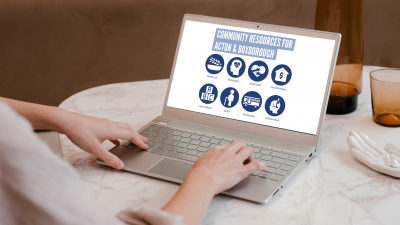 Connecting residents to resources is a priority for A-B United Way. Visit our Community Resources site for information on: 
Neighbor Connections
Town Information
Food Security
Cost-Saving Programs
Transportation
Civic Engagement
Volunteering
and more!
Connect to Community Resources
Welcome Initiative
Welcome to town! No matter where you're from, you're home now.
Could you use some help getting to know Acton and Boxborough? We have neighbors who would love to welcome you and help answer questions you might have. If you would like to get a "buddy" - somebody you can talk to, please click through to fill out the request form below.
Volunteer for the Welcome Initiative (incl becoming a "buddy" for a newcomer)
Do you remember when you first moved here? Who reached out to you—a neighbor? A faith group? A person at the coffee shop? Someone on line at the grocery store? Do you remember feeling a little bewildered or lost? So much to learn—how to get the kids registered for school, what, there is school choice? how do I choose the best one? Where can I find a doctor, babysitter, senior center, transportation, etc.
Are there taxis to the train station? Where do I park? How do I get a pass? These are just a few of the issues we faced. And imagine if you move to our communities never having lived in the US, only having lived in urban areas, or not speaking English fluently?
To address these needs ABUW is piloting the AB Welcome Initiative and we are looking for volunteers to help make new residents feel welcome to our towns by connecting with new residents to ease their transition and help them become independent in finding out all the things our towns have to offer. You would be the link to ease their way and ensure that they are welcome. You can also connect them with people who have similar interests. The program is voluntary—some residents just want to be left alone. But others might welcome someone that they can call to ask questions—that they know is their designated buddy. Volunteers are especially needed who themselves came here from other countries or felt alone because they were from a minority group and had trouble feeling a sense of being part of the community. When new people hear how you overcame barriers it helps the new people in a big way.
If you are interested in learning more about the volunteer opportunities please register using the button below. A brief training session and question and answer session will be provided. COVID protocols will be honored and people will be matched based on their most comfortable forms of communication.