Community Resources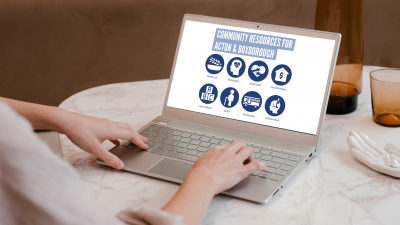 Connecting residents to resources is a priority for A-B United Way. Visit our Community Resources site for information on: 
Neighbor Connections
Town Information
Food Security
Cost-Saving Programs
Transportation
Civic Engagement
Volunteering
and more!
Connect to Community Resources
Welcome Initiative 
Welcoming Each New Neighbor
The Acton-Boxborough Welcome Initiative, a project of Acton-Boxborough United Way and the AB Racial Justice Collaborative, welcomes new residents to Acton and Boxborough. Volunteers bring new residents a gift bag of information useful to know when you first move to the area.  Inside the bag, in addition to a few local goodies and flyers for local organizations, there is a welcome placard that says WELCOME in several different languages, and contains a QR code and link to our Resource Site (see above).
Volunteers are given a list of recent homes sold in their neighborhood, and they go out and say hi, and give out a gift bag.  People have been pleasantly surprised to be welcomed in this way, and have a connection to someone living nearby.  We would like to have a volunteer in every neighborhood if possible.
If you are interested in learning more about the volunteer opportunities please register using the button below.