Senator Jamie Eldridge awarded Reverend Cindy Worthington-Berry, senior Pastor at United Church of Christ in Boxborough, the inaugural Mike Tobia Award at Acton-Boxborough United Way's Annual Meeting and Community Celebration on June 8th.
The A-B United Way Board of Directors established the Mike Tobia Award for Community Leadership in honor and memory of Mike Tobia, Mt. Calvary Community Supper's Founder and Chairman who passed away this winter.  The Award recognizes an outstanding Community Leader, dedicated to serving residents' needs with compassion and dignity, while fostering a sense of belonging for all.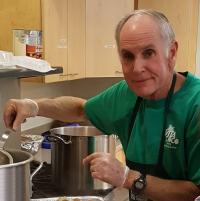 Since its inception in 2012, Mt. Calvary Community Supper has served over 40,000 meals through the collective efforts of hundreds of volunteers, sponsors and donors. Mike was an inspired leader, organizer, collaborator, and innovator -- and a close friend of Acton-Boxborough United Way. Mike intentionally extended the table to everyone who wanted to be part of the supper and treated every guest with compassion and dignity, while fostering a sense of belonging for all.  The Supper invites guests every Wednesday at Mt. Calvary Baptist Church in Acton.
A-B United Way had the honor to work closely with Mike over the years.  At the outbreak of the pandemic,  Griet Dehandschutter, Executive Director, collaborated with Mike in the Food Security Task Force: "Mike was ready to nimbly adapt a weekly community supper for 60 guests into a drive-through operation serving 180 meals weekly, while still keeping that warm hospitality and sense of community.  Mike ran with each new idea.  His growth mindset set the tone, he helped build trust and the Task Force became stronger because of him." 
Board President, Karen Collins, explained: "So many A-B United Way team members, who got to know Rev. Cindy Worthington-Berry during the pandemic, felt inspired by her dynamism, endless energy and deep, compassionate care for all neighbors.  Not surprisingly, the decision to nominate her for the Mike Tobia Award was unanimous."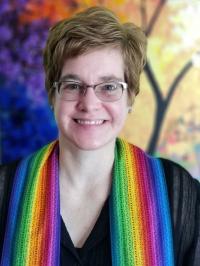 When Rev. Cindy sees a vital, unaddressed need, she works tirelessly to figure out solutions. Her probing questions lead to better collective and creative solutions to the immense challenge of getting food on the table for all our residents in the Food Security Task Force.  As Boxborough was without a Community Services Coordinator for many months during the pandemic, Rev. Cindy assisted Boxborough residents to apply for A-B United Way's COVID-19  Emergency Grants.  
Rev. Cindy was a driving force in the response and recovery following the devastating Boxborough Fire that left 24 families without a home in the midst of an already trying winter.  She assisted residents the night of the fire and she hasn't stopped since, organizing partners and volunteers, following-up with each of the families, assessing needs and figuring out solutions for housing, medical care, mental health support, gaining access to belongings, connecting with landlords. 
Her innovative spirit comes through in the launch of the Boxborough's FreeBee Market and her bridge-building experience is valued in the AB Racial Justice Collaborative.
Pastor Cindy always brings empathy, deep listening, a calming presence and a healthy dose of humor and years of bridge-building experience in every situation.  A-B United Way recognizes that her inspiring community engagement and leadership went above and beyond already demanding pastoral duties in a pandemic year.