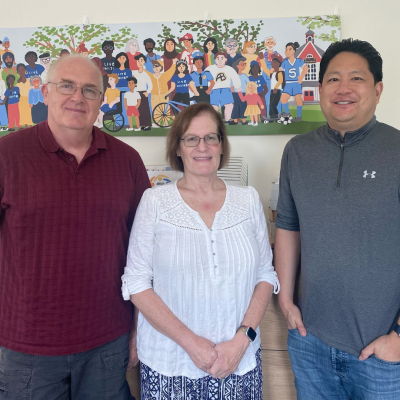 Acton-Boxborough United Way is pleased to announce the 3 newest members of our Board of Directors. Please join us in welcoming Ed Keohan, Sally Whitney, and Andrew Shen!
Ed works with leaders of small to midsize companies as a business and executive coach for FocalPoint Coaching. He focuses on strategic planning, team building, and marketing & communications at the organizational level. He also likes working with individual executives as they battle to set goals and drive their companies – while striving to balance their professional and personal lives. Over the past 35 years, Ed has worked in marketing and management roles in a range of industries, from food & beverage to OTC nutraceuticals, financial services and medical devices. He received his undergraduate degree from Wesleyan University and his MBA from the University of Virginia. Ed and his wife Deb have lived in Acton for over 25 years. Their 3 daughters attended Conant, RJ Grey and ABRHS before heading off to college and beyond.
Sally is an experienced Human Resources Professional. Sally has been working as a leader in HR for a few different organizations in BioTech, Pharma, Insurance, and a few other industries. She holds an MS in Management - HR specialization and has volunteered in community organizations in several states, such as Habitat for Humanity, Food Banks, and organizations like Household Goods. The Whitney's moved to Acton in 2006. Sally lives with her husband, James, and their triplets who attended AB schools, as well as several dogs who are all good dogs. They are avid National Park supporters - James volunteers at Yosemite 3-6 months each year.
Andrew is currently the Director of Special Projects for the Acton-Boxborough Schools. His work encompasses a range of district-wide initiatives that include strategic communication with the community and within the District, supporting the building-based needs at each school, as well as supporting the District's attention to incorporating data and data analysis in its commitment to equitable opportunities and outcomes in terms of student learning. Andrew originally joined Acton-Boxborough in 2008 as an Assistant Principal at RJ Grey and then served as the Principal of the school from 2012 to 2021. Previous to Acton-Boxborough, Andrew was the Associate Dean and founding Director of the Asian American Center at Northeastern University. He began his career as an educator at Lincoln-Sudbury Regional High School where he was a member of the History faculty. Andrew has both a B.A. in History and Educational Studies, and a Master of Arts in Teaching (M.A.T.) from Brown University, as well as an M.Ed in School Leadership from Harvard University. He currently lives in Concord with his wife and three children.