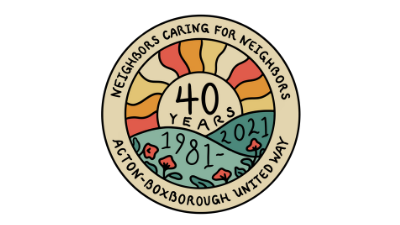 This year, Acton-Boxborough United Way celebrates 40 years of neighbors caring for neighbors. In 1981, a group of visionary neighbors founded the Acton-Boxborough Community Chest to raise local dollars for local impact.
Through thoughtful stewardship, the organization has grown and evolved. Thanks to your dedication, Acton-Boxborough United Way is a beacon of hope for many individuals and organizations in the community, truly living the updated mission statement voted last fall:
Acton-Boxborough United Way mobilizes the caring power of community to drive positive, lasting change. United, we fight for the health, education, and financial stability of EVERY person in Acton and Boxborough.
We look forward to gathering, virtually, with the community to toast this milestone. Please join us on Friday, September 10th at 7:00PM via Zoom. Special Guest Lori Trahan will join us to speak about the power of community.
Register to receive your Zoom link: