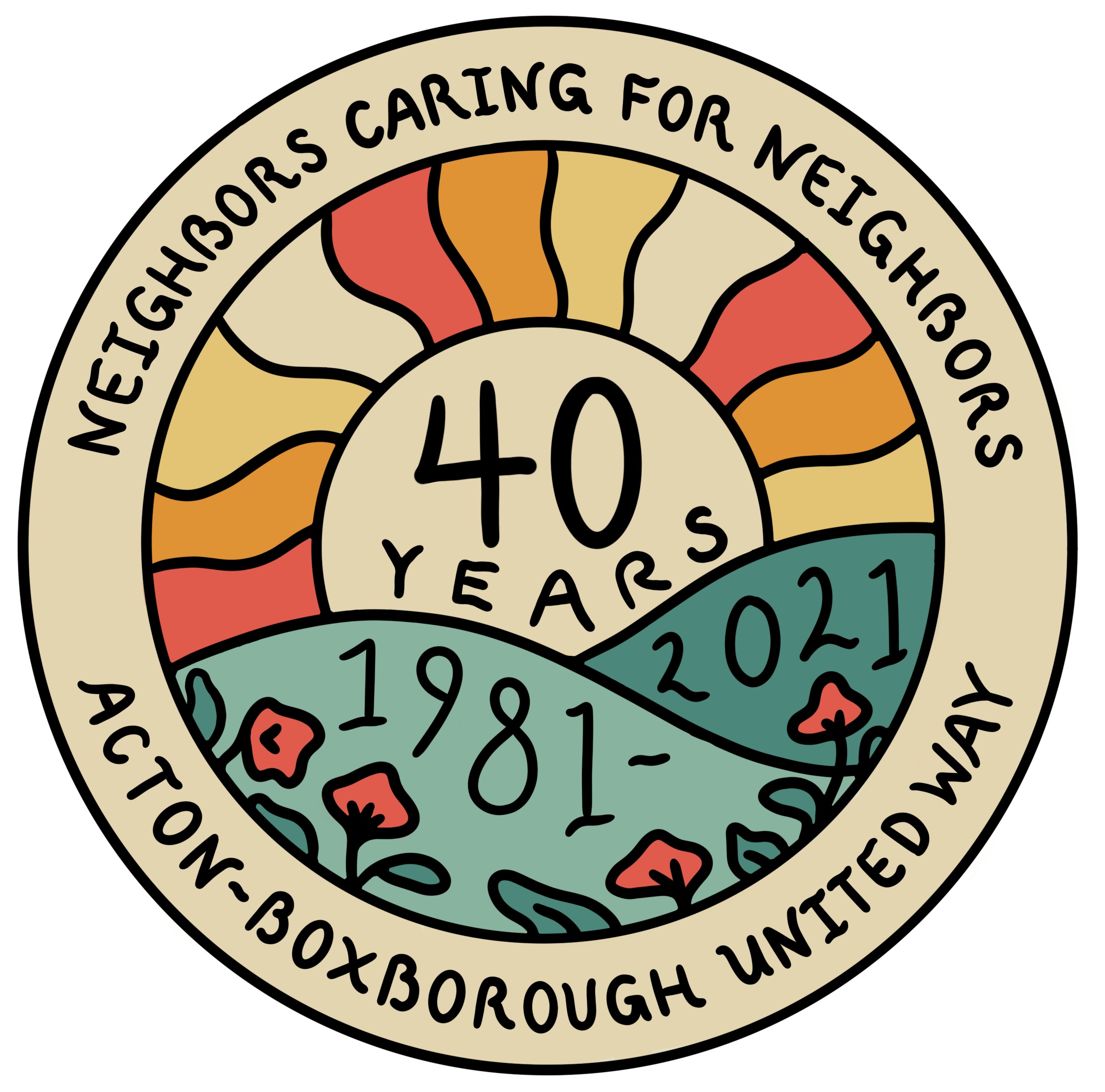 Acton-Boxborough United Way (ABUW), a leading community organization, marks its 40th Anniversary with a series of activities celebrating 40 years of neighbors caring for neighbors. 
"It all started around our kitchen table,"  recalled Bill Ryan, former AB schools superintendent and one of the co-founders of what was in 1981 the Acton-Boxborough Community Chest. At the 40th anniversary edition of A-B United Way's virtual Neighbors Storytelling event earlier this month, Bill -- one of 9 storytellers -- told a story of how the community rallied to support each other during his time as superintendent. Reflecting on the 40th Anniversary milestone, Bill commented:
"It is great to see that neighbors caring for neighbors is still at the heart!" 
"Our vision is to create a community where everyone belongs and thrives," said Jill O'Brien, ABUW Board President.  "It is thrilling to see how many volunteers donate their time and talent to give back to our community."
Each year, hundreds of community volunteers help organize events, evaluate emergency grants for residents, or participate in designing and implementing programs in one of Acton-Boxborough United Way's five focus areas: advancing community mental health resilience, early childhood success, equity & racial justice, financial stability, and crisis preparedness.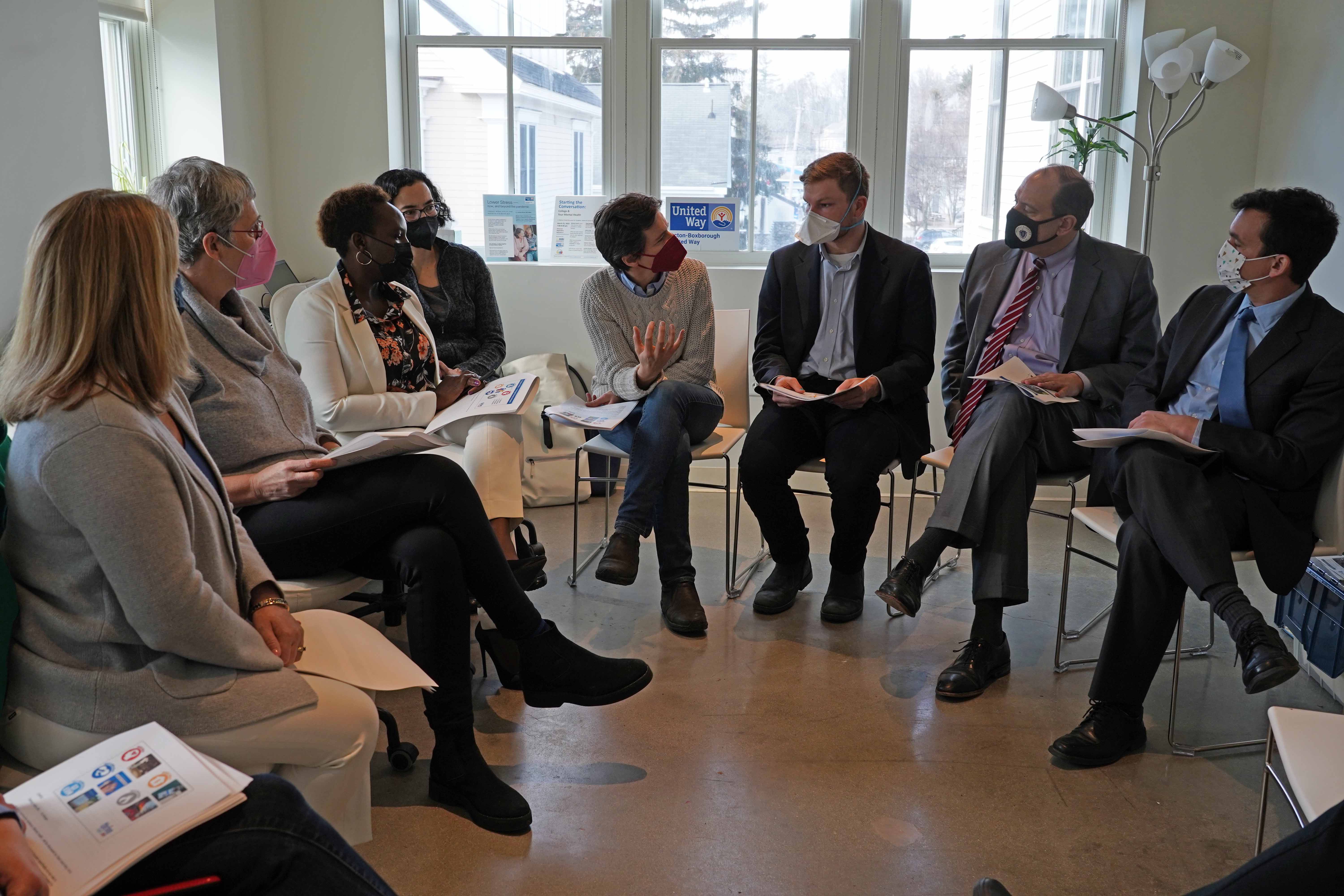 Legislators recently visited ABUW's new office on the 2nd floor of West Acton Villageworks, next to Acton Coffee House. State Senator Jamie Eldridge said, "It was such a pleasure to see the new bright office space and to be briefed on the strategic plan Thrive2024. Representatives Tami Gouveia and Dan Sena and I are deeply committed to supporting local needs with increased state support and improved state policies."
There are several opportunities to participate in this milestone year of activities.
Contribute to the 40th Anniversary Campaign
When you give to Acton-Boxborough United Way, you make it possible to address critical needs to local residents of all ages that otherwise go unmet. The 40th Anniversary Campaign will allow ABUW to achieve the ambitious goals outlined in Thrive2024, and increase support to dozens of local agencies bringing critical services to Acton and Boxborough.
Jeff and Janet Glidden of Boxborough shared why they stepped up to offer a matching gift for the 40th Anniversary Campaign: "We are thrilled to offer a matching gift for the ambitious 40th Anniversary Campaign.  We saw this as an opportunity to celebrate ABUW's 40th Anniversary in memory of the inspirational leadership of Ebit Speers, former Board President." The Gliddens and another local family stepped forward to honor Ebit's inspiring generosity, love and care for our community. 
Gifts to the Campaign are currently being matched dollar for dollar, so your donation will go even further to support critical services right here in Acton and Boxborough.
Help decide where the grant funds go
On Thursday, March 24, all residents are invited to learn about how we as a community support local agencies and how you can get involved. For FY23, ABUW will commit over $150,000 in grants to area organizations that provide critical services to local residents, ranging from services to stop domestic violence or prevent eviction, language training, child care and more.  You can help decide the impact of your local dollars.    
Join Run.Walk.United 5K
On May 7th, participate in Run.Walk.United., a fun 5K through West Acton. All are welcome at this family-friendly run/walk event to celebrate 40 years of Neighbors Caring for Neighbors. The business community has rallied to support this event, with many generous sponsors stepping forward to invest in the community. West Acton Village Merchants Association is organizing a Spring Fling to coincide, making this a truly special day to come together and connect with the community.
Visit abuw.org to find out more about how to spring into action with Acton-Boxborough United Way.