100 Holiday Meals Distributed Thanks to Mt Calvary Community Supper & Acton-Boxborough United Way 
Article by Mt Calvary Community Supper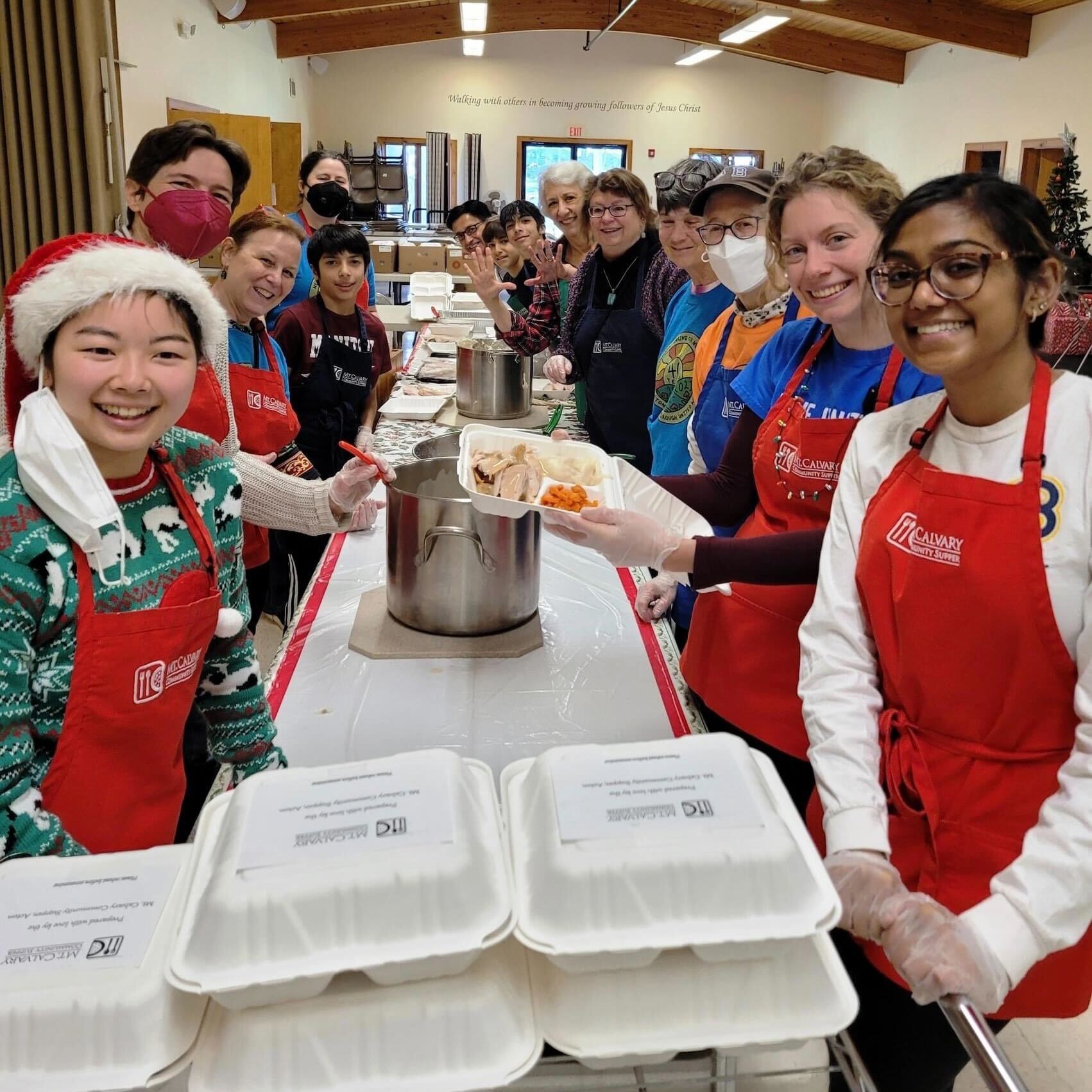 Another example of what a caring community we have in the town of Acton: local businesses and organizations coming together to help 100 individuals feel the holiday spirit.
On Monday, December 19th, Mt Calvary Community Supper partnered with ABUW, Tom Lowe's Meat Market of Northborough, and Bisousweet Bakery to prepare 100 holiday meals of a delicious roast turkey dinner with all the "fix-ins" along with a special dessert. Meals were delivered to Acton and Boxborough and surrounding residents by Acton Senior Housing Authority, the Acton Social Services, and members from Mt. Calvary Lutheran Church.
Founded in 2011, this is the tenth year in a row for the event. Tom Lowe took on the task of cooking 16 turkeys at his market and Karen Collins, owner of Bisousweet Bakery provided delectable biscotti treats. All the carving, dicing, mashing, and remaining cooking took place at the Mt. Calvary Lutheran Church of Acton. The dedicated MCC Supper volunteers worked from early morning till noon when the final selections were ready for the packing process. Thanks to the additional help from members of ABUW and 2 returning college students, "many hands made light work" in the assembly line of rapid speed as 100 meals were readied for pick-up and hand delivery.
This event has been a very rewarding experience for all involved throughout the years. Its success has been made possible through the generosity and kindness of individuals and businesses working together for the common good. It speaks to the commitment of the wonderful Mt. Calvary Community Supper volunteers and members of Acton-Boxborough United Way who provided the nutritious meals with care and compassion. We are so grateful that they gave of their time during this incredibly busy season of celebrations.
We welcome all to join us each Wednesday at our sit-down dinner and share in friendship while being served. As a non-profit organization, Mt. Calvary Community Supper of Acton sincerely appreciates support from community residents as we continue to serve all those who are experiencing food insecurity and social isolation. An entire night's 4 course supper for all who come can be provided for $350. Should you, your business, or a group of individuals wish to recognize a special person or family member, please consider donating a unique gift of love to Mt. Calvary Community Supper. Guests are always so grateful for a delicious meal and sense of belonging they feel as they dine at the only community supper in Acton.
---
Acton-Boxborough United Way is proud to have supported Mt Calvary Community Supper since its inception. Learn more about Mt Calvary Community Supper here: https://www.mtcalvaryacton.org/community-supper